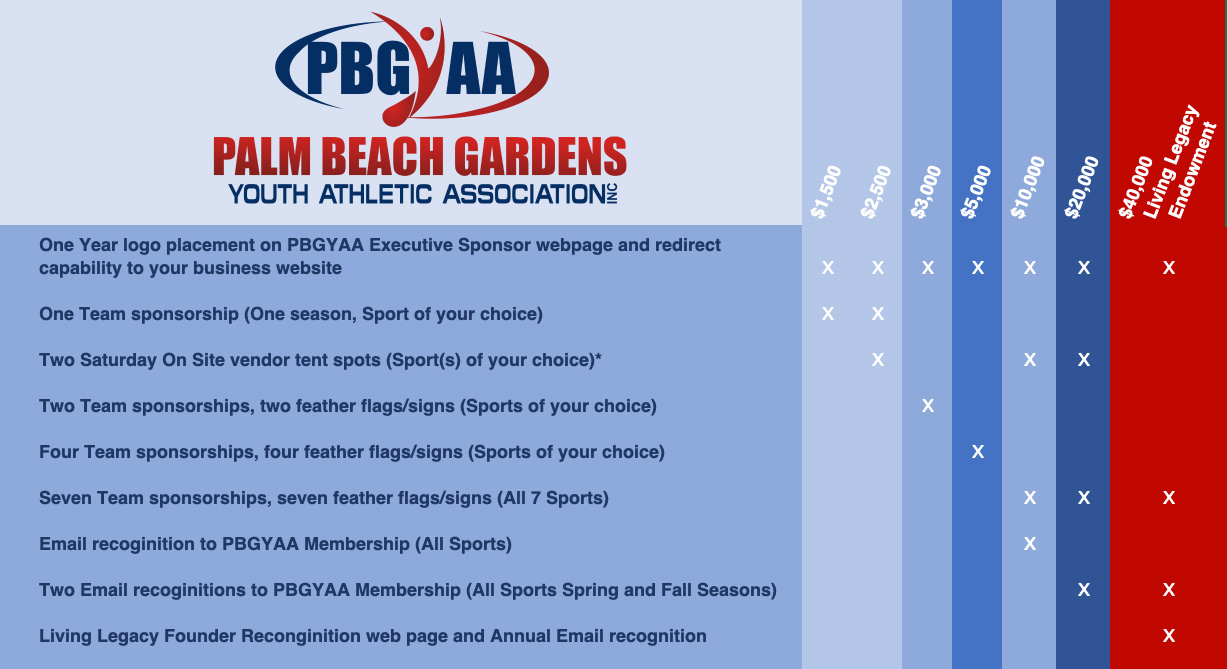 ---
SPONSORING MAKES YOU PART OF THE TEAM
With your sponsorship—YOU are making an IMPACT, and helping PALM BEACH GARDENS YOUTH ATHLETIC ASSOCIATION continue our important mission as we provide children in our community with the best sports facilities and programs in the county. Thanks to your support, we will continue to "cheer on" the over 5500 children playing in our seven Recreation Leagues. With the help of our partners like YOU, PBGYAA (Palm Beach Gardens Youth Athletic Association) uses your donations to help provide offset operational expenses, provide safe and updated sports equipment to our players, and continue to provide successful recreational and competitive sports programs in our community. Most importantly, your sponsorship will also help fund players that would not be able to play without our financial support.
IT'S A WIN-WIN
As a supporter of PBGYAA, you know that we offer the absolute best sports programs. The evidence is exhibited by the thousands of people who participate in our tournaments and events. The PBGYAA Baseball Program hosts, the Cal Ripkin World Series for several age groups. The tournament was so successful Cal Ripken Baseball awarded us with more scheduled in 2021! Our Predator Soccer Program hosts "The Palm Beach Gardens Classic" which will bring thousands of talented soccer stars from all over the state of Florida. WHY IS THIS SO IMPORTANT? Tournaments like these help the economic success, of City of Palm Beach Gardens, endorsing local businesses, hotels, and entertainment!
WE'LL FIND THE RIGHT FIT
We will take the time to create a unique and effective sponsorship package that fits your goals. We can integrate the many City facilities, as well as our events, to help you gain prominent marketing opportunities. You'll be supporting our important mission, to provide the best sports programs to the children in our community!
ABOUT US
We proudly boast close to 600 volunteers that help run all seven of our Recreation and Travel Leagues. The PBGYAA has been providing youth athletics for children in our community for over 53 years. It is important to us to continue providing successful programs to our city but, it is also important in the development of a child. It is proven that youth sports not only provides healthy physical activity but, aids in the building of a child's social development. Self-confidence, respect, team building, responsibility, and community are just some of the benefits children get by playing youth sports!
Interested in becoming an Executive Sponsor? Send a message and we will reach out to you to provide additional information.
Become part of our team!
Giving doesn't have to be a difficult thing. Palm Beach Gardens Youth Athletic Association (PBGYAA) is a non-profit 501(C)(3) organization.